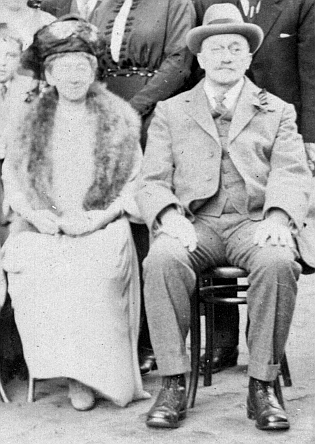 Betty Netherwood and her husband Peter Corware — A very faded photograph taken on a Kodak Brownie camera, developed and printed by an amateur photographer. Dated July 26th 1922 at Armitage Bridge, Huddersfield, at the wedding of her niece, her sister Agnes' daughter.
Born in Deighton, Huddersfield in autumn 1865, Betty Netherwood was the eldest of the four children of Godfrey Netherwood and his wife Hannah. She had two younger sisters, Agnes and Sarah Ann, and a brother Harry. Before her marriage she worked as a weaver, following a family tradition of textile work dating back at least to her great grandfather. On the 27th July 1893 'age about 25 years', according to her marriage certificate (actually 28 years), at Queen Street Methodist Chapel, Huddersfield she married 22-year-old Peter Corware, a railway porter. Peter, born in Liverpool and with his two brothers abandoned by their mother, was brought up in Myrtle Street Orphanage and later The Blue Coat School, Liverpool. Apprenticed to a railway company he worked in Huddersfield, Dewsbury and finally Leeds where he was a signalman in the main Signal Box. For most of their married life Betty and Peter lived in rented accomodation at 46, Willoughy View, Holbeck, Leeds, a cobbled street of typical Yorkshire terraced back to back houses with outside toilets, and close to a railway viaduct.
Betty Corware died at the age of 64 in March 1930 and was buried on the 29th March in a vault in Holbeck/Leeds Cemetery, bought by her husband for five pounds. Peter Corware outlived her by 27 years and died in the same house in 1957 at the age of 86 and was buried in the same vault. They did not have any children.
-Peter Carter